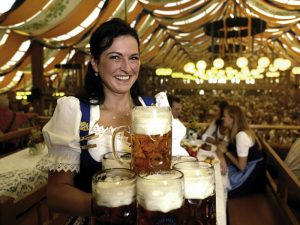 Beer festivals are a great way to enjoy awesome beer and discover new ones. They're also a fantastic way for someone new to the game to ease into the world of craft beer, with samples to enjoy and the opportunity to speak to brewers and beer aficionados. Aside from the world class beers on offer, there are normally many other events and competitions to keep you entertained and prevent you from peaking too soon. The delicious smell of a BBQ will waft through the air and various chefs will be looking to create sumptuous meals to pair with the beers on offer. A variety of live music and other entertainment is to be expected, ensuring your day at the festival is packed full of fun and of course, excellent beer!
Beervana
Beervana is one of New Zealand's biggest and most popular festivals and it certainly lives up to its name. It's the epitome of all things craft beer. With an emphasis on discovery, the festival features craft beers from around the country, both old favorites and innovative new brews. There's also fantastic food, interactive bars and entertainment. It runs for two days every August and is hosted in the Wellington Stadium. It's extremely well organized, with festival currency and your own festival glass aimed at reducing on waiting times. Volunteers are in high demand as well.
Hopstock
Featuring over 20 of Wellington's best breweries, Hopstock celebrates the hop harvest and green hopped beers. The festival runs across the city and is celebrated in a number of craft beer bars and restaurants. There's a trail card that can be completed as you sample beers from various venues. Once the card is filled in it can be sent off into the prize draw. The festival runs between the 19th and 24th of April.
Hop 'n Vine
Located in the Velodrome, Invercargill, Hop 'n vine features a wide range of NZ craft brews, as well as local cider and other boutique creations from around the country. There's also great food, music and a home brew competition.