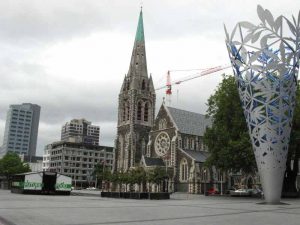 The number of great bars serving great beers is ever increasing, with more and more establishments stocking craft beers from New Zealand and around the world.
Christchurch
Christchurch is home to a number of excellent bars serving some of the best beer in the country.
Pomeroy's – with 31 taps, including 15 regulars, you can sure to find something to your taste every time you visit this English style pub.
Twisted Hop – this former brewpub has moved from its central location since the 2011 earthquake. It can now be found in Woolston. The brewery, though not on site, is still active and the pub serves their own cask conditioned real ales, as well as many other local brews.
The Volstead – a range of 22 taps and hand pumps, and several well stocked fridges provide anything from real ales to smoked porters. Located behind the Eagle microbrewery in an industrial chic style bar.
Auckland
Fast becoming the craft beer capital of New Zealand, Auckland is home to the original brewpub and a vast array of craft beer bars.
Brothers Beer – a massive range of craft beers available on tap or by the bottle, including their own which is now brewed on site. Tap takeovers are frequent, showcasing some fantastic new beers.
16 Tun – a fairly new addition to the scene, they stock over 80 different craft beers from around the country, both on tap and by the bottle. They serve great food as well!
Vultures' Lane – the place many brewers choose to drink in the city, there are 22 taps and over 70 bottles to choose from.
Nationwide
There are many more craft beer bars around the country, here are just a few.
Dodson Street Beer Garden – head for Blenheim to enjoy a vast range of craft beers in the German style beer garden and bar/restaurant.
The Moutere Inn – the oldest surviving pub in the country was also one of the first to embrace craft beer. They have thirteen taps featuring a number of excellent locally brewed beers.