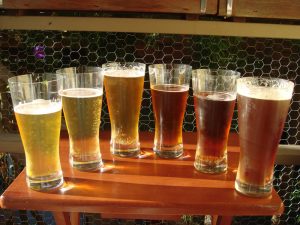 The craft brewers of New Zealand have been busy creating some truly stunning brews over the last few years. Old classics have been injected with a modern twist and altogether new ideas have been spawned around the country. Tastes are evolving, with consumers looking for ever more potent brews. This is largely reflected when you take a look at some of the most popular craft beers in New Zealand at the moment.
Read more here: brewersguild.org.nz
Kereru Imperial Nibs
Winner of several international awards and voted RateBeer's best beer in New Zealand of 2016, Imperial Nibs is something special. Classes as an Imperial Porter, it weighs in at 8.5% abv and packs a punch of heavy flavors. It's made from the purest cacao nibs from the Wellington chocolate factory, vanilla pods and manuka toasted coconut. The taste is reminiscent of bounty bars, roasted malts and bitter chocolate.
8 Wired iStout
Another dark, rich and heavy beer makes its way onto the podium. With an abv of 10.5%, this monster of a beer gives a modern makeover to the classic Russian Imperial Stout style. With a rich taste of coffee, liquorice and bitter sweet coffee, there's also just a hint of citrus from the hops. It's a great nightcap or can be served with an ice cream floater to make a decadent dessert.
Liberty Sauvin Bomb
Hoppy beers have been a firm favourite for many years among Kiwis. Showcasing one of New Zealand's most popular hops, Nelson Sauvin, this 7% pale ale takes no prisoners. With a resinous, peachy come grapefruit taste combined with a full bodied malty flavor, it's a deliciously quaffable beer, with hints of fruity white wine. Despite the somewhat pungent aroma, the taste is rather delicate.
Emerson's Bird Dog IPA
Another one for the hopheads, this IPA sits at a modest 6.5% abv. It's a single hopped beer showcasing New Zealand Cascade. Part floral, part spicy on the nose, the following taste is a delightful hop fest, citrusy and zesty with a crisp bitterness that demands another sip, and another, and perhaps another bottle!