The history of beer in New Zealand is an interesting one, with humble beginnings as a cure for scurvy, followed by some bizarre laws, which ultimately dictated the style of beers brewed.
The First Beer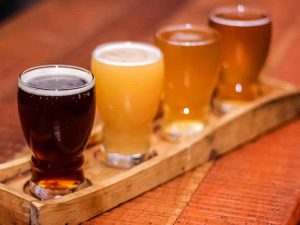 Captain James Cook was responsible for the first batch of beer, concocting an interesting brew in 1773. Mixing wort with molasses, manuka twigs and rimu tree branches and bark, the crew made a wholesome brew to combat scurvy.
The First Brewery
New Zealand's first commercial brewery opened its doors in 1835, located in what is now Russell. The style matched that of the majority of immigrants and English and Irish porters and ales ruled.
As the years went by, beer fast became the most popular beverage among the locals, but looked to be in danger in the early 20th century. Prohibition was debated and came down to a national referendum in 1919. With just 51% of votes against the movement, it failed as a result of the returning servicemen's votes being counted. However, while prohibition was defeated, a law enforcing 6 pm closing times for licensed establishments – a continuation from war time – was passed.
The Six O'clock Swill
As a result workers would rush to drinking holes after work at five and sink as much beer as they could in the allotted hour of legal drinking time. Beer was served from a hose directly into customers glasses during this hectic hour. As a result, lagers became increasingly popular, with ales fading into the background. The law was finally repealed in 1967, however during this time most breweries had been swallowed up by the two largest breweries of the time, Lion and Dominion breweries.
The Birth of Craft Beer
A shift in trend started in 1981, when the first micro brewery was opened. Mac's Brewery in Nelson was the first, though a few more followed. The Shakespeare Hotel became the first brew pub in 1986 and since then there has been a surge of new establishments opening throughout the country. Nowadays, discerning customers are enjoying a wide range of fantastic locally produced craft beers.